BBrain Basic – Digital Calendar clock – white
Are you looking for a Calendar clock for people with dementia or beginning memory problems? Then the 10-inch BBrain Basic Calendar clock is a perfect option.
Developed in collaboration with dementia nurses
In addition to the standard display of date, day and time, this 10-inch Digital Calendar clock with alarm function also displays the part of the day (morning, afternoon, evening, or night). The clock is especially designed for people with dementia or beginning memory problems. For these people it is important that a calendar clock is clear and comprehensible. Furthermore, the clock contains a LED screen with illuminated letters and numbers. In the evening, between 7 pm and 7 am, this LED lighting is dimmed.
This is an official dementia clock of the brand BBrain. The software on this clock has been developed in collaboration with dementia nurses and case managers.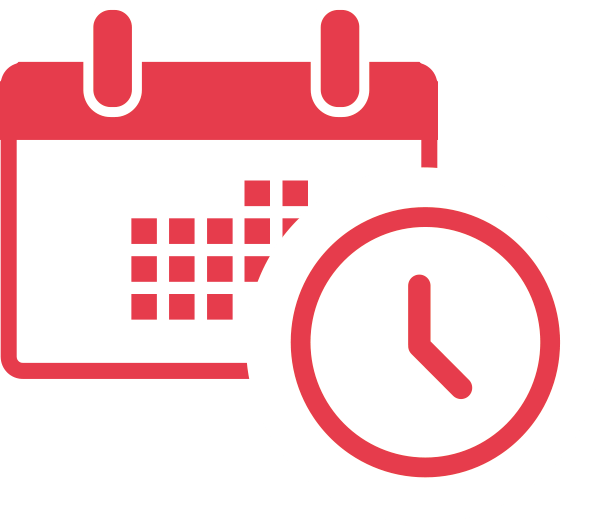 Daily planning and structure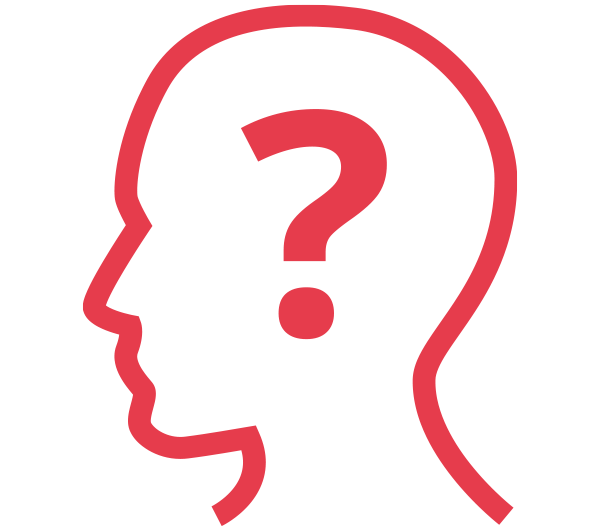 Support with decreased sense of time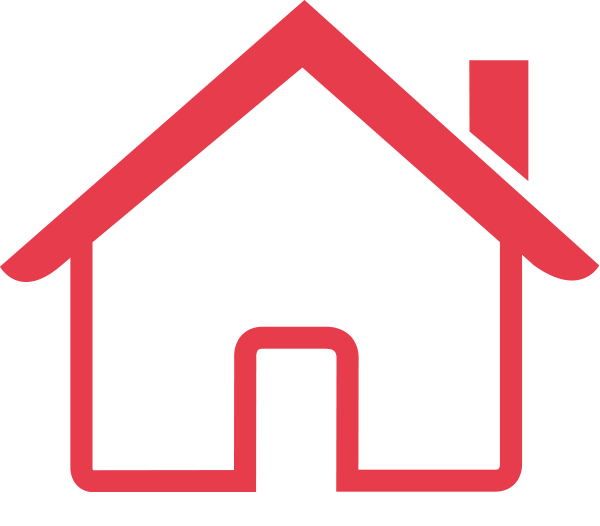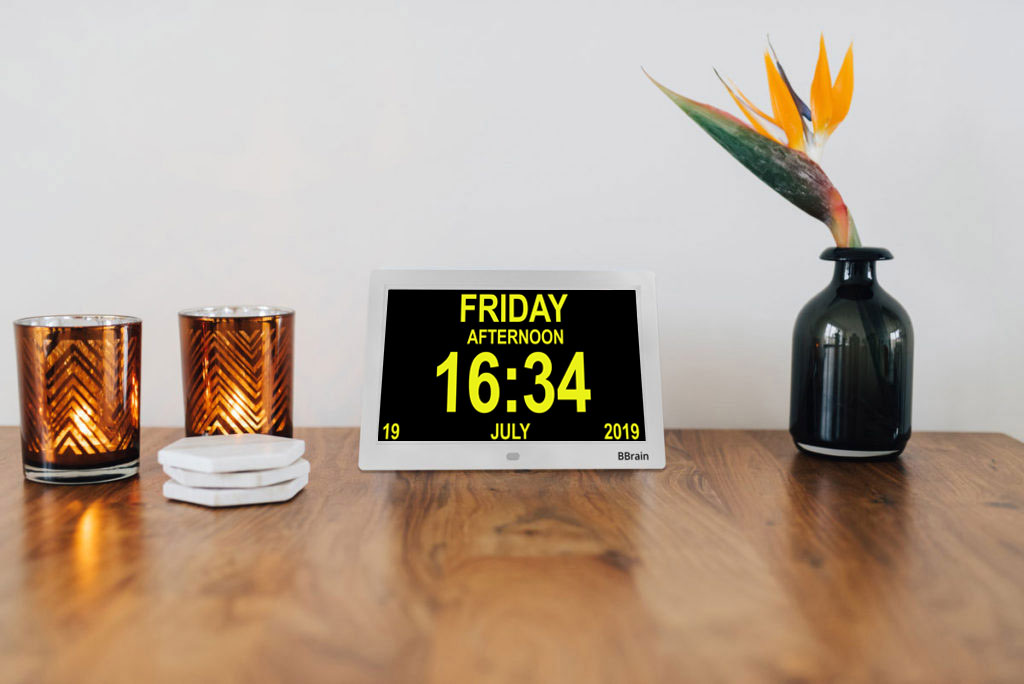 Special functions for the visually impaired
About 85% of all visual impairments in the Netherlands occur in people aged 50 or older. In addition to the standard calendar clock, this digital dementia clock also has a theme for the visually impaired. In this theme, the letters and numbers will turn yellow against a black background. This makes the contrast higher and it will be clear for people who can no longer see that well.
The Digital Calendar clock has an alarm clock function. You can set an alarm for three different times: when you want to get up, when it is time for an afternoon nap and when it is time to go to bed. The alarm clocks can be set to go off once, daily, from Monday to Friday, or on Sunday. The alarm can be turned off by pressing any button on the back of the clock. This is also clearly indicated on the screen when the alarm goes off.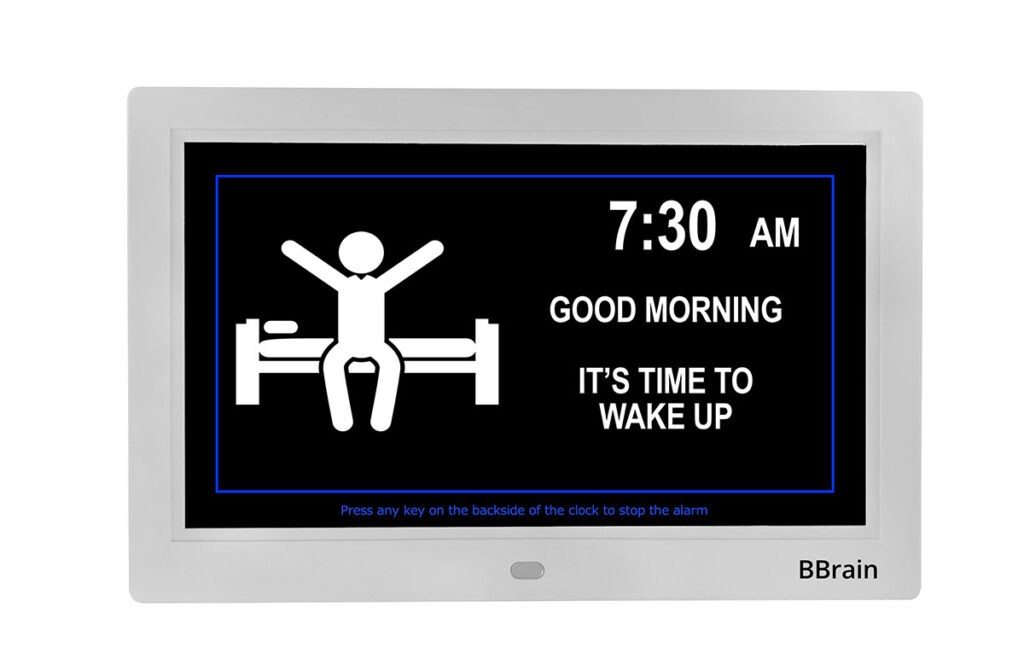 Also available as a Basic Dementia clock and analogue clock
In addition to this 10-inch variant, there is also a variant with themes especially developed for people with dementia. The 10-inch variant also has special medication reminders which are a lot more extensive.
It often happens that people with dementia no longer recognise digital time indications (16:34). When this happens, we recommend the analogue version of this clock. Traditionally, people who suffer from dementia still recognise the position of the clock hands as an indication of time. With the analogue clock you can easily switch between the digital and analogue display.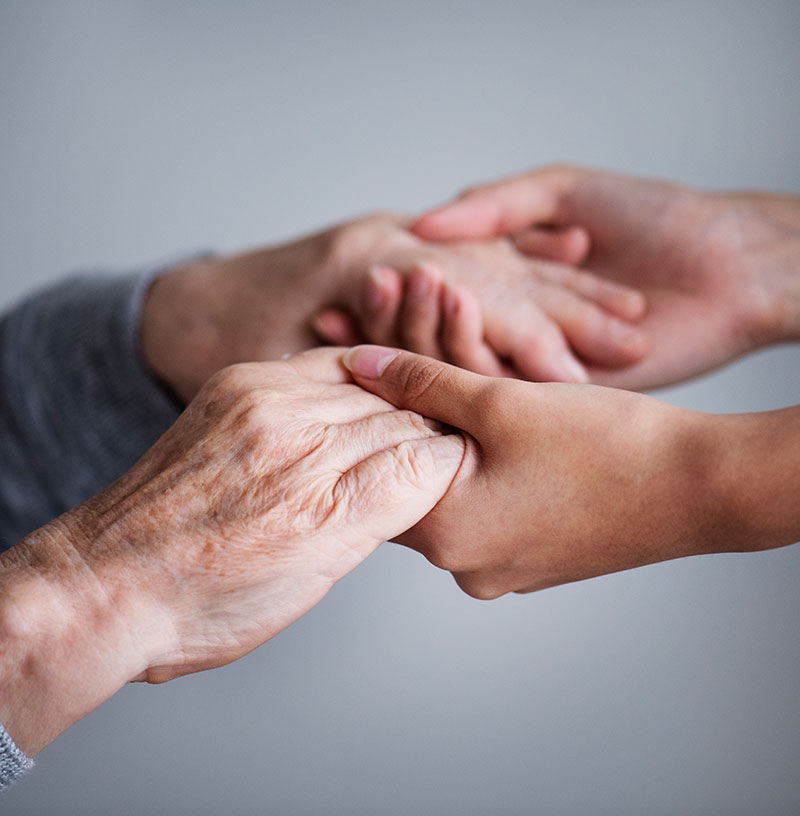 Mobiel
MORE PEACE AND SECURITY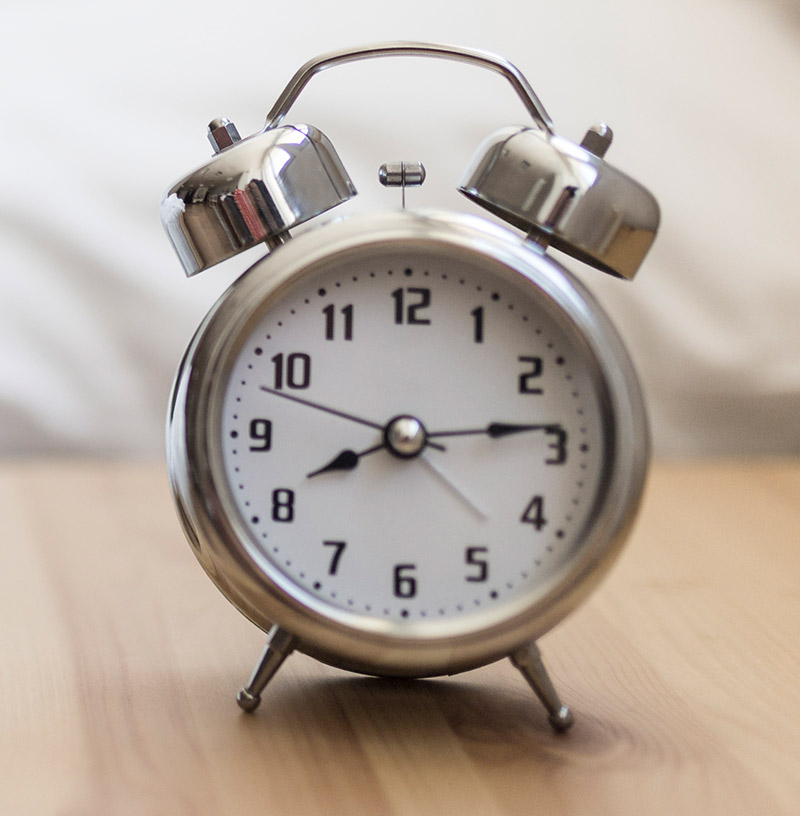 BBrain Basic Digital calendar clock in pictures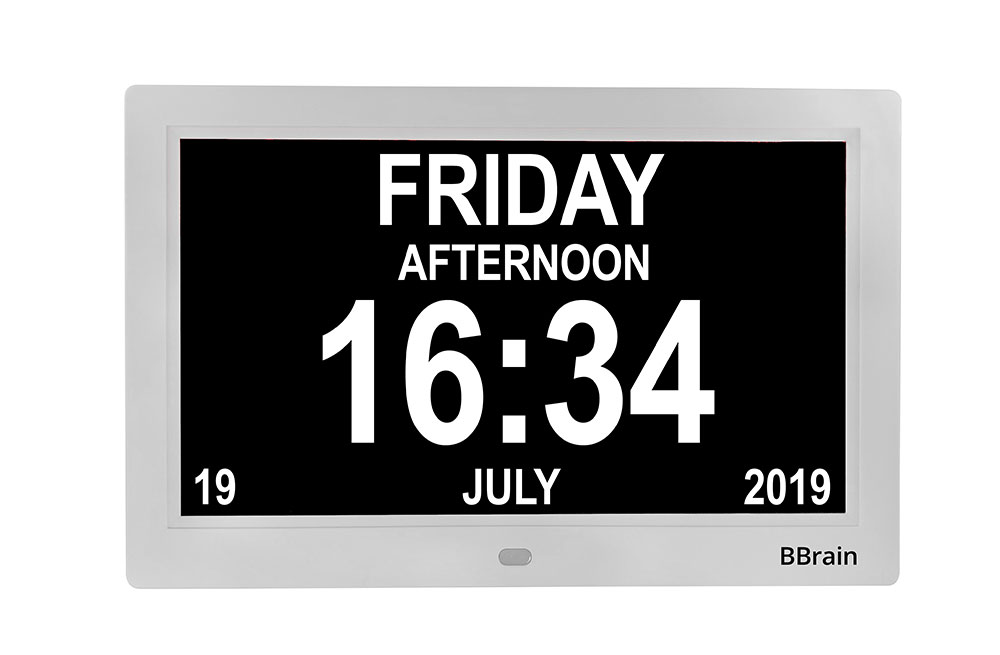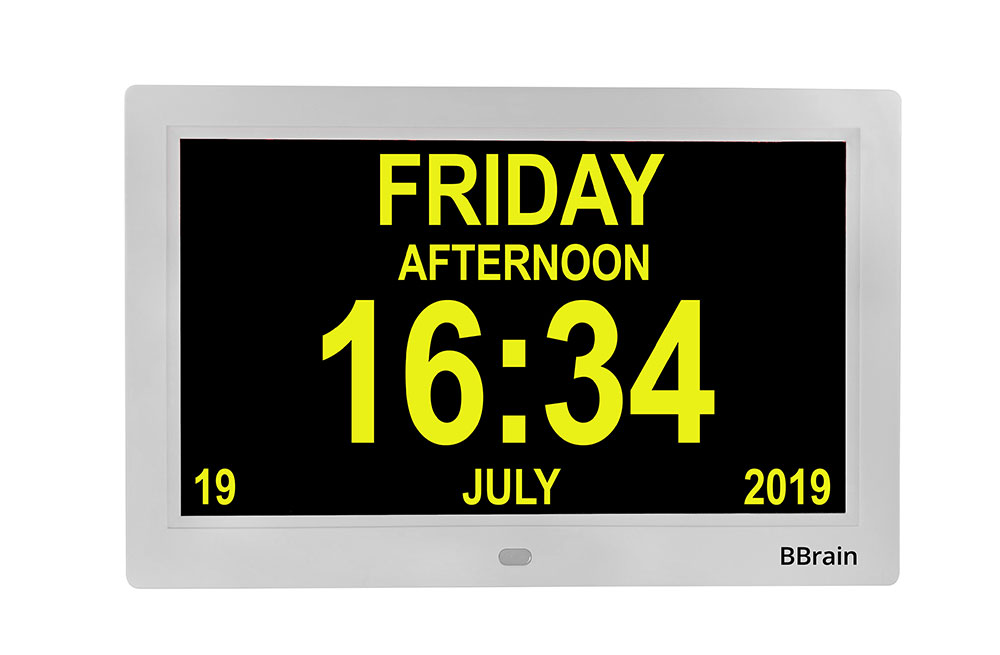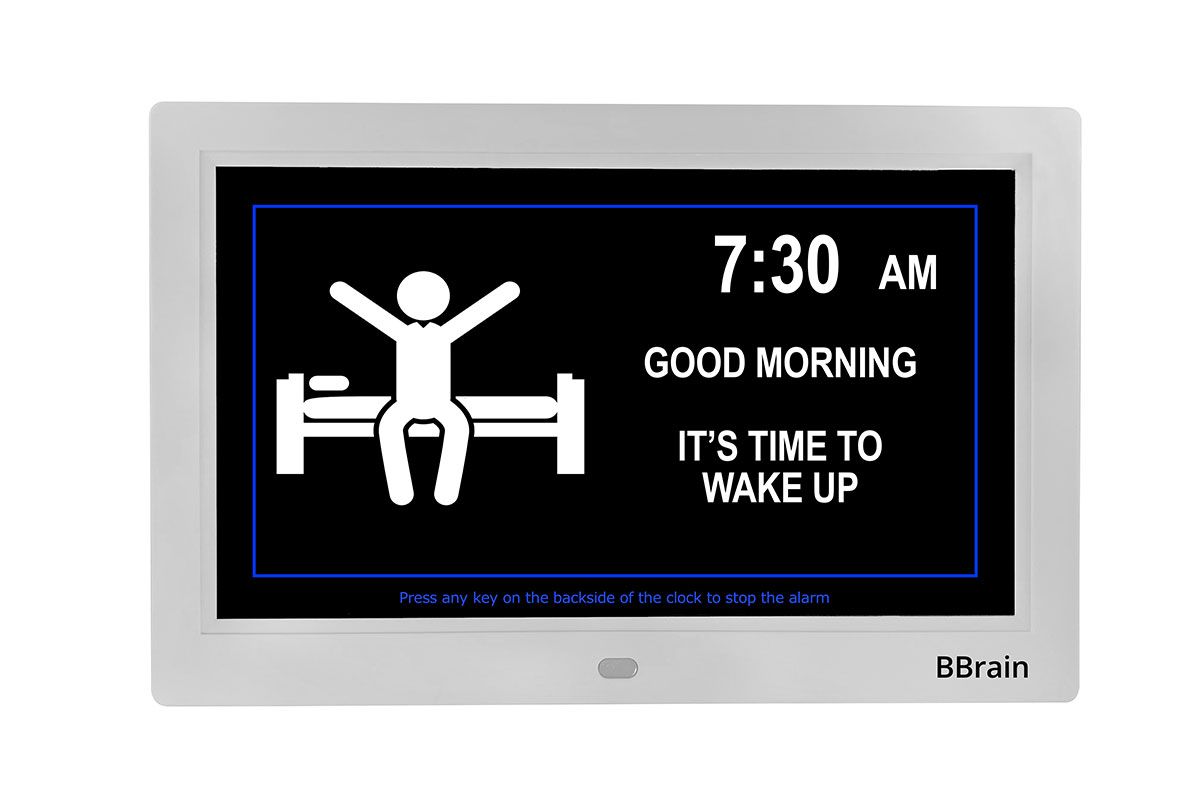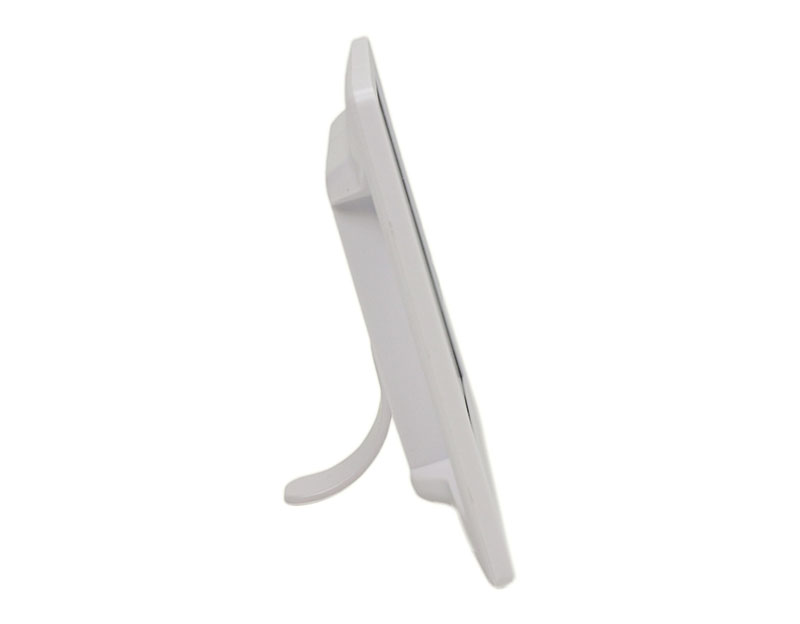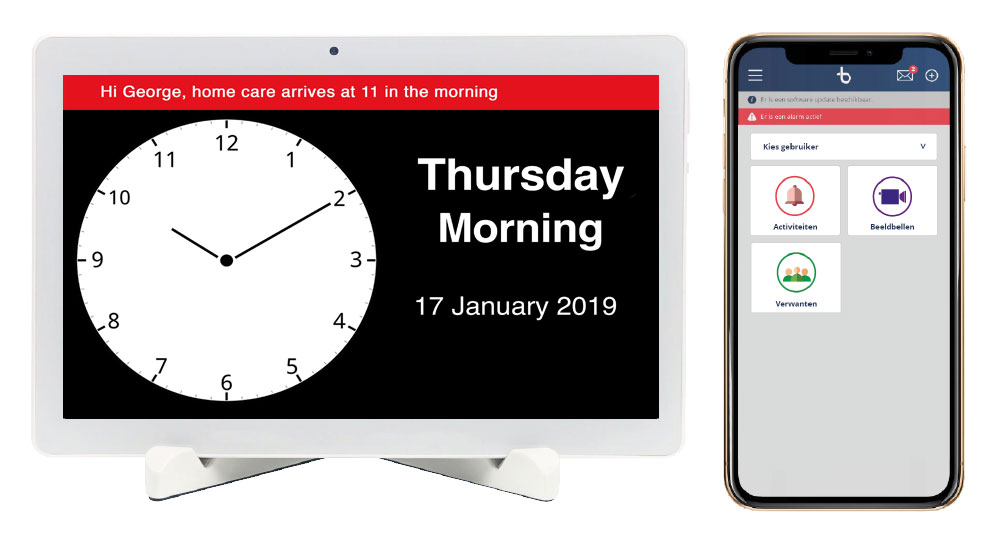 Also interesting: a clock with an agenda function and App
In addition to the BBrain Basic analogue clock, there is also the BBrain Family clock, which can be controlled via the internet with a useful App. Do you want to use the app to schedule and manage appointments and send messages or nice photos of your holiday to the clock? Then the BBrain Family D2 for dementia is the right choice. The BBrain Family G2 is suitable for seniors in general or seniors with beginning memory problems. With both clocks you can make video calls with your loved ones or caregivers.
Frequently asked questions